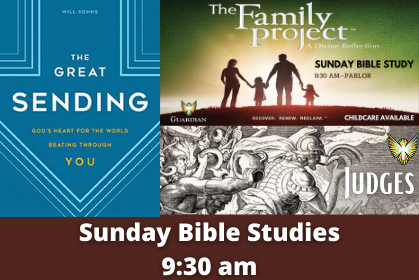 Part of our worship life at Guardian is focused on getting into the Word of God. Adult Bible Study is held each Sunday between services from 9:30-10:30 am.
Children are also encouraged to focus on the Word of God while attending Sunday School which starts in the Fellowship Hall and breaks out into age appropriate groups in specific rooms in the church and school.
Coffee, tea, and light refreshments are served during the Bible Study hour.
Winter 2022 Bible Studies
The Family Project
Why do families work?
Because God Himself designed them!

The Family Project is a 12 session DVD experience for parents that explores the theological, philosophical, and cultural underpinnings of the traditional family, and combines that information with inspiring stories and practical tools to help 21st-century families thrive. Join us in the Parlor every Sunday at 9:30 am. Nate Belongia will be leading the discussion. Learn more about The Family Project
The Book of Judges
A Bible study going through the book of Judges. Learn about a period of Israel where no one is in charge, violence and idolatry are normal, and God continues to have mercy.
The Great Sending
We will be reading and study a book titled, "The Great Sending" by Rev. Will Sohns, which goes to the heart of being missional, as an individual and as a congregation.